Happy Ugadi Wishes in English
Happy Ugadi Wishes in English Ugadi is one of the significant festival celebrated by two telugu speaking states. It is a beginning of Telugu New year. Here, find the list of some of the beautiful quotes, wishes, & whatsapp message which you can share with your friends and family members. Quotes
இணையுங்கள் எங்களின் கல்வி மற்றும் வேலைவாய்ப்பு தகவல்கள் குழுவில்
Happy Ugadi Wishes in English
1. "Let us welcome Ugadi with full enthusiasm, hope and fervour. May this festival bring a new spirit."
2. "This Ugadi, I am sending my best wishes to you and your family. I hope the festival brings love, fortune and prosperity into your life.
3. " This Ugadi, unleash your potential and believe in yourself as the festival is giving you a new chance. Buck up for the new aspirations and beginnings."
4. "Ugadi is no less than a new life, new hopes, new anticipation and new beginnings. I wish you a Happy Ugadi.
5. With a smile and spirit of festivities, let us celebrate this festival and bring a sense of humanity along with a pledge to spread positivity around us.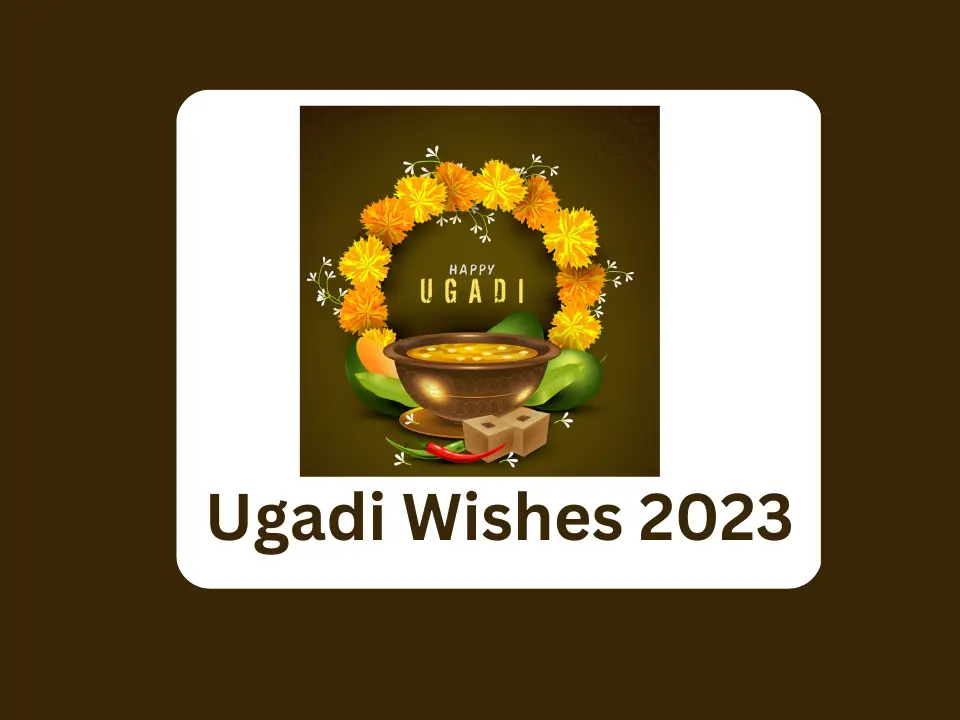 6. May this Ugadi bring joy, happiness, love and prosperity to your life. I hope all your dreams get fulfilled.
7. "Mango for surprise, neem for sadness and jaggery for happiness. May this festival fill your life with all kinds of flavours in a perfect balance."

8. "This Ugadi, I wish you a year filled with new hope, aspirations, learning and lots of success. I wish you a Happy Ugadi."

9. Let's put the sorrows of the past behind us and start fresh. Happy Ugadi, enjoy this day to the fullest and look forward to a bright future.
10. May good triumph over evil always. I want all your stress and worries to be less this year. Happy Ugadi.
11. This New Year, I wish nothing but the best for you. I want you to be happy and full of joy. May you become the best version of yourself and spread joy wherever you go.
12. Ugadi is all about good food, joy, and a good time with your loved ones. Happy Ugadi to you.
13. Wishes May the light that we celebrate at Gudi Padwa show us the way and lead us together on the path of peace and social harmony.
14. Every day of every year, may God bless you with health and cheer; never go far, and always be near. These are my wishes for you, dear. Happy Gudi Padwa!
15. May this festival of Gudi Padwa bring you a new spirit, a new beginning, and new prosperity. Wishing you a very happy Gudi Padwa!
Happy Ugadi Wishes in English
16. Let us welcome Ugadi with full enthusiasm, hope and fervour. May this festival bring a new spirit.
17.I hope you enjoy this Ugadi with your better health and increased wealth. May prosperity bloom in your family. May this new year bring a pot full of luck in it. I hope you and your family enjoy this festival like never before.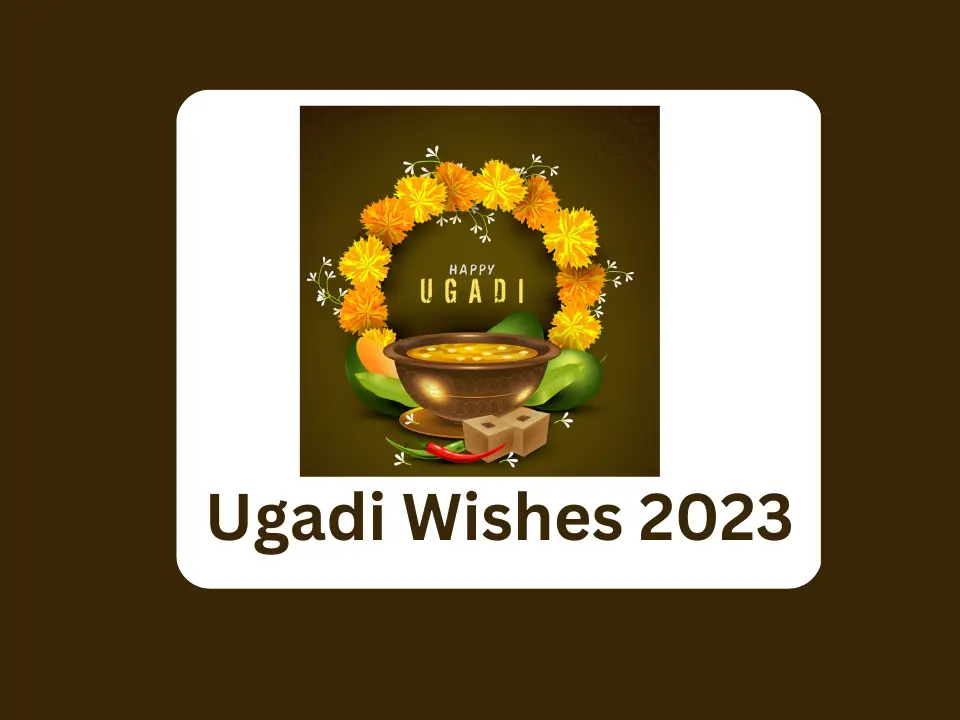 18. As Ugadi brings a new year for us, I am sending my best wishes and love to you. May all your dreams come true this year and things go as you want them to go.
19. May this New Year herald the advent of prosperity for you and your family. Happy Ugadi!
20.As the holy occasion of Gudi Padwa is here and the atmosphere is filled with the spirit of mirth and love, here's hoping this festival of beauty brings you bright sparkles of contentment that stay with you through the days ahead. Wishing you a happy Gudi Padwa!
21. May the New Year be the harbinger of peace, prosperity, and happiness. Happy Gudi Padwa!
22. Messages May the flavour of raw mangoes, raw neem, and jaggery remove all bitterness and add sweet flavours to your life. Happy Ugadi!
23. Fortunate is the one who has learned to Admire but not to envy. Good Wishes for a joyous Ugadi and a Happy New Year with plenty of Peace and Prosperity
24. Sweet n Sour. Here I am wishing you luck in every aspect of life this Ugadi and always.
25. Long live the tradition of Hindu culture and as the generations have passed by Hindu culture is getting stronger and stronger let's keep it up. Best Wishes for Ugadi.
26. Let's put the shadows of the past behind and look forward to a new beginning. Wishing you a Ugadi full of fun and frolic!
27. May lights triumph over darkness. May peace transcend the earth. Happy Ugadi!
28. May this Ugadi bring in you the brightest and choicest happiness and love you have ever wished for. Happy Ugadi.
29. On this Ugadi, let us make a resolution to spread love and happiness all
30. Sending joyous festivities on your way this Ugadi. Happy Ugadi to you and your family.
Happy Ugadi Wishes in English
31. As you welcome the fresh New Year and embark on a path of happiness and prosperity, Happy Ugadi to you
32. God created the world on the eve of Ugadi for his loving creations to live in it with harmony, Happy Ugadi 2023
33. May this Ugadi bring peace and balance to your life. Wishing you a Happy Ugadi
34. On this auspicious moment of Ugadi, I pray to God for your health and happiness! May Lord Ganesha fulfill all your dreams!
35. Let's greet Ugadi with a lot of optimism, excitement, and expectation. Let's hope for plenty of happiness, fulfilment, serenity, and wealth. Merry Ugadi.
36. Yug Adi (Ugadi) means the beginning of a new Yuga (year). Let's begin this new year with new hope. Wishing you and your family an auspicious Ugadi."
37. May you are showered with the divine blessings on Ugadi and enjoy best of success and growth in life…. Wishing a very Happy Ugadi to you sir.
38. On the occasion of Ugadi, I wish a blessed year ahead…. May all your dreams come true and may you find success in every venture you are a part of…. Happy Ugadi!
39. Ugadi is the celebration time and I wish you the best of celebrations which make it a wonderful start of the year for you…. Have a blessed Ugadi.
40. Wishing you happiness and smiles, success and growth, prosperity and positivity….. wishing you and your family a vibrant Ugadi!!!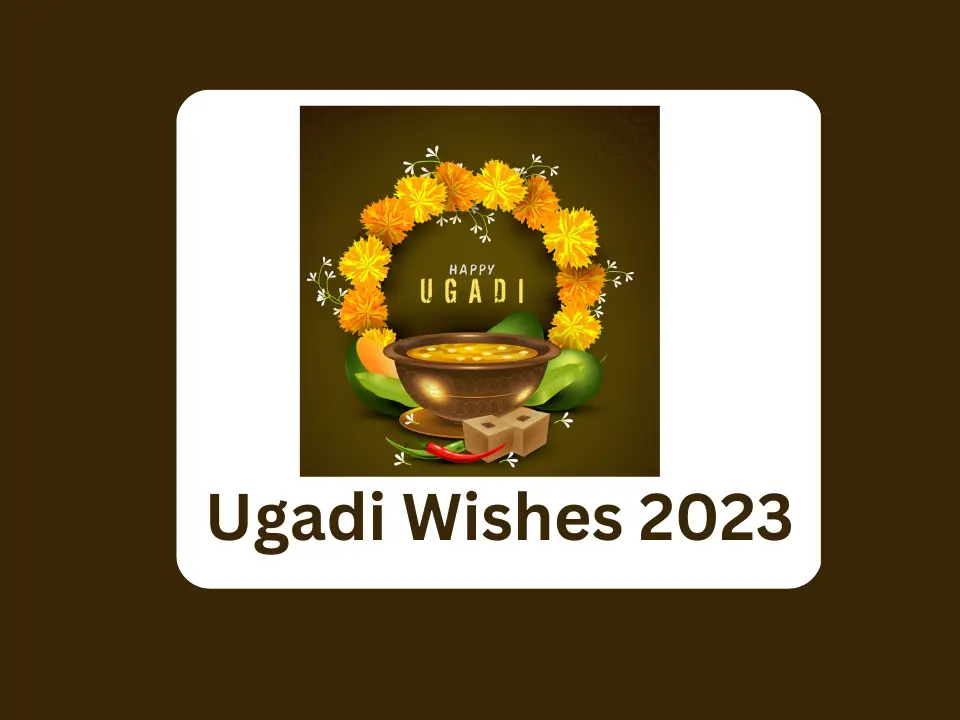 41. May you enjoy the festivities of Ugadi with your family and friends…. Wishing you the best times and great year ahead on Ugadi.
42. Dear sir, I wish that each and every day bring along lots of opportunities your way to make it a special year for your career….. A very Happy Ugadi to you.
43. Wishing a blessed and beautiful Ugadi to you….. May you enjoy this festive occasion with your family and friends and welcome the new year with great celebrations.
44. Celebrate the festive occasion of Ugadi with inspiring Ugadi messages and Ugadi wishes 2022 to share with family and friends. Unique collection of Ugadi messages to wish your loved ones.
45. "Wishing you new colours of happiness and brightness in this new year….. Sending warm wishes on the auspicious occasion of Ugadi!!!"
46. "May there is new rhythm, new melody and new tunes to make it a blessed year for you…. With lots of love, Happy Ugadi!!!"
47. "Ugadi is the time for celebrations and feast and I wish you the best of the times with your loved ones to make it a beautiful year…. Happy Ugadi."
48."May this spring festival spread joy and happiness in your life…. Bring good health and wellness to you….. Best wishes on Ugadi to you.
49. "May each and every moment of Ugadi full of enjoyment, merriment and entertainment for you to kick start your year…. Happy Ugadi.
50. "I wish you brighter smiles, happier hearts and more contented soul on the occasion of Ugadi…. May you work hard to turn your dreams into a reality."