ESIC Recruitment 2022
ESIC Recruitment 2022
Employees State Insurance Corporation of India காலியாக உள்ள Social Security Officer/ Manager Gr-II/Superintendent ஆகிய பணியிடங்களை நிரப்பிடுவதற்கான அறிவிப்பு (ESIC Recruitment 2022) வெளியிடப்பட்டுள்ளது.
மொத்தம் 93 பணியிடங்கள் உள்ள நிலையில் இப்பணிகளுக்கு தகுதியும், விருப்பமும் உள்ளவர்கள் கீழ்காணும் முறையில் விண்ணப்பித்து பயனடையலாம்.
ESIC Recruitment 2022 [Highlights]
நிறுவனத்தின் பெயர்
Employees State Insurance Corporation of India
அறிவிப்பு ஆணை எண்
–
பணியின் பிரிவு
Central Govt Jobs
Employment Type
Regular Basis
மொத்த பணியிடங்கள்
93 பணியிடங்கள்
Job Location
Anywhere in India
Starting Date
12.03.2022
Last Date
12.04.2022
Apply Mode
Online
மொத்த பணியிடங்கள் – ESIC Recruitment 2022:
93 பணியிடங்கள்
Social Security Officer/ Manager Gr-II/Superintendent – 93 பணியிடங்கள்
கல்வித் தகுதி – ESIC Recruitment 2022:
Social Security Officer/ Manager Gr-II/Superintendent
1. A degree of a recognized University (Preference will be given to the graduates in Commerce/Law/Management).
2. Working knowledge of computer including use of office suites and database.
Experience (Desirable): Three years' service in a Government Organization or Corporation or Government Undertaking or Local Body or Scheduled Bank etc.
ஊதியம் – ESIC Recruitment 2022:
Social Security Officer/ Manager Gr-II/Superintendent – Pay Level – 7 of Pay matrix (Rs. 44,900-1,42,400) as per 7th Central Pay Commission.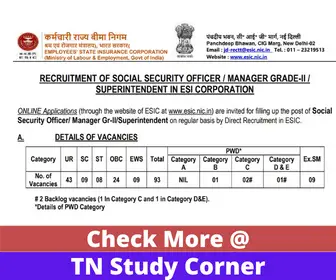 வயது வரம்பு – ESIC Recruitment 2022:
Social Security Officer/ Manager Gr-II/Superintendent – 21 to 27 years
he Upper age limit is relaxed by 5 years for SC/ST; 3 years for OBC, 10 Years for Persons with Disabilities (15 years for SC/ST PWD's & 13 years for OBC PWD's) and for Ex-S as per Govt. of India rules. Candidates Relaxation in Upper Age limit will be provided as per Govt. Rules. Go through ESIC official Notification 2022 for more reference
விண்ணப்பக் கட்டணம்
For General – Rs. 500
For SC/ST/ Departmental Candiadates / Ex-Servicemen and Female candidates – Rs. 250
விண்ணப்பிக்கும் முறை – ESIC Recruitment 2022:
Employees State Insurance Corporation of India நிறுவனம் சார்பில் தேர்வு செய்யப்பட உள்ள இப்பணியிடத்திற்குத் தகுதியும், விருப்பமும் உள்ளவர்கள் https://ibpsonline.ibps.in/esicssomar22/ என்ற இணையத்தள முகவரி மூலம் விண்ணப்பத்தை பூர்த்தி செய்து, 12/03/2022 முதல் 12/04/2022 குள் விண்ணப்பத்தை சமர்ப்பிக்க வேண்டும்.
தேர்வு முறை – Selection Process – ESIC Recruitment 2022:
ESIC may follow the following process to select the candidates.
| | |
| --- | --- |
| 1. | Phase I – Preliminary Examination & Phase II – Main Examination |
| 2. | Phase III – Computer Skill Test & Descriptive Test |
விண்ணப்பிக்க வேண்டிய கடைசி நாள்
12/04/2022
General Instruction to the Candidates – ESIC Recruitment 2022
Candidates must apply online through the website www.esic.nic.in. No other means/mode of application will be accepted. Applications received through any other mode will not be accepted and will be summarily rejected. To apply online visit our website www.esic.nic.in.
After submitting the online application, the candidates are required to take print out of the finally submitted online application and retain the same with them.
CANDIDATES ARE NOT REQUIRED TO SUBMIT TO ESIC EITHER BY POST OR BY HAND THE PRINTOUTS OF THEIR ONLINE APPLICATIONS OR ANY OTHER DOCUMENT. They will be required to submit printout of online application along with documents in support of their eligibility etc. at later stage.
THE CANDIDATES ARE ADVISED TO SUBMIT ONLY SINGLE ONLINE APPLICATION. However, if
somehow, he/she submits multiple online applications, then he/she must ensure that online
application with the higher "Application Number" is complete in all respects including fee. The applicants, who submit multiple online applications, should note that only the online application with higher "Application Number" shall be entertained by the ESIC and fee paid against one "Application Number" shall not be adjusted against any other "Application Number".
APPLICATION ONCE SUBMITTED CANNOT BE MODIFIED. HENCE UTMOST CARE SHOULD BE
TAKEN TO FURNISH THE CORRECT DETAILS BEFORE SUBMITTING THE ONLINE APPLICATION.
Candidates are advised to keep their personal email ID and mobile number active as all correspondences pertaining to exam will be communicated on email address and mobile number provided at the time of filling online application
CANDIDATES ARE ADVISED IN THEIR OWN INTEREST TO APPLY ONLINE MUCH BEFORE THE
CLOSING DATE AND NOT WAIT TILL THE LAST DATE TO AVOID THE POSSIBILITY OF CONNECTION/INABILITY/FAILURE TO LOG ON ETC
DOWNLOAD OF CALL LETTER – Candidates will have to visit the ESIC website for downloading call letters for online test. Intimation for downloading call letter will also be sent through email/SMS. Once the candidate clicks the relevant link, he/she can access the window for call letter download. The candidate is required to use (i) Registration Number/Roll Number, (ii) Password/Date of Birth for downloading the call letter. Candidate needs to affix recent recognizable photograph on the call letter preferably the same as provided during registration and appear at the examination centre with (i) Call Letter (ii) Photo Identity Proof as stipulated in clause (j) below and also specified in the call letter and photocopy of the same Photo Identity Proof as brought in original
CANDIDATES REPORTING LATE i.e. after the reporting time specified on the call letter for Examination will not be permitted to take the examination. The reporting time mentioned on the call letter is prior to the Start time of the test. Though the duration of the examination is 1-2 hours, candidates may be required to be at the venue for about 4 hours including the time required for completion of various formalities such as verification and collection of various requisite documents, logging in, giving of instructions.
IDENTITY VERIFICATION – In the Phase-I, II and III Examinations the candidate is required to submit to the invigilator for verification, the call letter along with original and a photocopy of the candidate's currently valid photo identity (bearing exactly the same name as it appears on the call letter) such as PAN Card/ Passport/ Permanent Driving Licence/ Voter's Card/ Bank Passbook with photograph/ Photo identity proof issued by a Gazzetted Officer on official letterhead along with photograph / Photo identity proof issued by a People's
Representative on official letterhead along with photograph / valid recent Identity Card issued by a recognized College/ University/ Aadhar card/ E-Aadhar Card with a photograph/ Employee ID/ Bar Council Identity Card with photograph. The candidate's identity will be verified with respect to his/her details on the call letter, in the Attendance List and requisite documents submitted. If identity of the candidate is in doubt the candidate may not be allowed to appear for the Examination.
Ration Card and Learner's Driving License are not valid id proof.
Note: Candidates have to produce in original the photo identity proof and submit photocopy of the photo identity proof along with call letter in the Phase-I, II and III Examinations. Candidates must note that the name as appearing on the call letter (provided during the process of registration) should exactly match the name as appearing on the photo identity proof. Female candidates who have changed first/last/middle name post marriage must take special note of this. If there is any mismatch between the name indicated in the Call Letter and Photo Identity Proof the candidate will not be allowed to appear for the examination. In case of candidates who have changed their name, will be allowed only if they produce original Gazette notification / their original marriage certificate / affidavit in original.
A compensatory time of twenty minutes per hour or otherwise advised shall be permitted for the candidates with locomotor disability and cerebral palsy where dominant (writing) extremity is affected to the extent of slowing the performance of function (minimum of 40%impairment).
The possibility of occurrence of some problem in the administration of the examination cannot be ruled out completely which may impact test delivery and/or result from being generated. In that event, every effort will be made to rectify such problem, which may include movement of candidates, delay in test. Conduct of a reexam is at the absolute discretion of test conducting body. Candidates will not have any claim for a re-test. Candidates not willing to move or not willing to participate in the delayed process of test delivery shall be
summarily rejected from the process.
Decision of ESIC in all matters relating to recruitment will be final and binding on the candidate. No correspondence or personal enquiries shall be entertained by the ESIC in this behalf.
If the examination is held in more than one session, the scores across various sessions will be equated to adjust for slight differences in difficulty level of different test batteries used across sessions. More than one session are required if the nodes capacity is less or some technical disruption takes place at any center or for any candidate.
ESIC would be analyzing the responses (answers) of individual candidates with those of other candidates to detect patterns of similarity of right and wrong answers. If in the analytical procedure adopted by ESIC in this Regard, it is inferred/ concluded that the responses have been shared and scores obtained are not genuine/ valid, ESIC reserves right to cancel the candidature of the concerned candidates and the result of such candidates (disqualified) will be withheld.