Indian Bank Security Guard Recruitment 2022
Indian Bank Recruitment 2022
Indian Bank காலியாக உள்ள Security Guard ஆகிய  பணியிடங்களை நிரப்பிடுவதற்கான அறிவிப்பு (Indian Bank Security Guard  Recruitment 2022) வெளியிடப்பட்டுள்ளது.
மொத்தம் 202 பணியிடங்கள் உள்ள நிலையில் இப்பணிகளுக்கு ரூ. 28,145 வரையில் ஊதியம் நிர்ணயம் செய்யப்பட்டுள்ளது. தகுதியும், விருப்பமும் உள்ளவர்கள் கீழ்காணும் முறையில் விண்ணப்பித்து பயனடையலாம்.
Indian Bank Security Guard Recruitment 2022  [Highlights]
நிறுவனத்தின் பெயர்:
Indian Bank
பணியின் பிரிவு:
Central Govt Jobs
Employment Type:
Regular Basis
மொத்த பணியிடங்கள்:
202 பணியிடங்கள்
Place of Posting:
Any where in India
Starting Date:
23.02.2022
Last Date:
09.03.2022
Apply Mode:
Online Mode
மொத்த பணியிடங்கள் -Indian Bank Security Guard Recruitment 2022:
202 பணியிடங்கள்
கல்வித் தகுதி – Indian Bank Security Guard Recruitment 2022
1) Date for reckoning eligibility shall be 01.07.2021
2) The candidate must be Ex-Servicemen from Army / Navy / Air force.
Essential Qualifications
1) The minimum educational qualification of the candidate should be 10th Standard (S.S.C./Matriculation) from recognized State Education Board or equivalent. Candidates possessing Graduation or higher qualification are not eligible to apply. Although, matriculate Ex-servicemen with 15 years of experience are considered as "Graduates", they are eligible to apply.
2) The candidate should be able to speak, read and write in local vernacular language.
3) Character – "Exemplary" (Minimum requirement).
4) Candidates having valid Commercial driving license for atleast light motor vehicle will be preferred.
5) Medical Standards – Category A / Shape-I medical category or equivalent at the time of retirement.
6) Must be physically fit to carry out duties of Security Guard.
ஊதியம் – Indian Bank Security Guard Recruitment 2022:
Security Guard –  Rs. 14500 – 500/4 – 16500 – 615/5 – 19575 – 740/4 -22535 – 870/3 – 25145 -1000/3 – 28145/-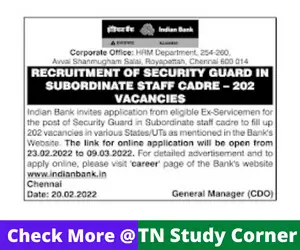 வயது வரம்பு – Naval Ship Repair Yard Recruitment 2022
26 years (29 years for OBC and 31 years for SC/ST as per category relaxation provided by the Government of India) as on cutoff date , is further relaxed to the extent of number of years of service in Armed Forces plus 3 years subject to maximum upper age limit of 45 years. The upper age limit of 45 years is uniformly applicable to candidates belonging to all categories inclusive of reserved candidates
விண்ணப்பக் கட்டணம்
இல்லை
தேர்வு முறை
Indian Bank Security Guard Selection Process 2022:
| | |
| --- | --- |
| 1. | Objective type Test – Online |
| 2. | Test of local language |
| 3. | Physical fitness Test |
| 4. | Preference will be given to candidates having valid commercial driving license of Light Motor Vehicle |
விண்ணப்பிக்கும் முறை –  Indian Bank Security Guard Recruitment 2022:
Indian Bank நிறுவனம் சார்பில் தேர்வு செய்யப்பட உள்ள இப்பணியிடத்திற்குத் தகுதியும், விருப்பமும் உள்ளவர்கள் https://ibpsonline.ibps.in/ibrsgsscdec21/  இணையதளம் மூலம் விண்ணப்பத்தை பூர்த்தி செய்து, 23/02/2022 முதல் 09/03/2022 குள் விண்ணப்பத்தை சமர்ப்பிக்க வேண்டும்.
How to apply for Indian Bank Security Guard Post:  
Candidate(s) fulfilling all the above clearly laid down criteria will have to apply online only through the link on the Indian Bank website in the careers webpage under current openings section i.e. https://www.indianbank.in/ from 23.02.2022 to 09.03.2022. No other mode of application will be accepted.
விண்ணப்பிக்க வேண்டிய கடைசி நாள்
09/03/2022
Naval Ship Repair Yard  Recruitment 2022
Online Application link 
Click here
அறிவிப்பு ஆணை
Click here
General Rules / Instructions:
a. Since recruitment for the captioned post is done on State/UT-wise basis, the candidate should indicate in the online application the state to which he/she opts for selection. The option once exercised will be irrevocable. Consequently, a candidate would be required to appear for Online Examination in any one of the centres (Annexure-I) in that particular State/UT. No request for change of examination centres will be entertained. However, depending upon the response, administrative feasibility etc. candidates may be allotted to a centre of examination outside the chosen State/UT for which vacancies he/she is applying. Please note this reallocation is only for the conduct of examination and the candidate will be considered for vacancies in the State/UT applied for, as aforesaid.
b. Candidates should satisfy themselves about their eligibility for this post.
c. Bank may at its discretion modify the selection process.
d. The candidates have to apply in online mode only.
e. Not more than one application should be submitted by any candidate. In case of multiple Applications only the latest valid (completed) application will be retained and the other multiple registration(s) will stand forfeited.
f. Candidates should have a valid Email-Id and mobile number which should be kept active till the declaration of final result. No change in Email ID and mobile number will be entertained during the entire process of recruitment.
g. If at any stage, it is found that any information furnished in the application is false/ incorrect or if according to the Bank, the candidate does not satisfy the eligibility criteria, his candidature/ appointment will be cancelled/ terminated.
h. Any incomplete application is liable to be rejected.
i. The Bank shall not entertain requests from the candidates seeking advice about their eligibility to apply.
j. Candidates already in service of Government / Quasi-Government Organizations and Public Sector Banks / Undertakings will have to produce a "No Objection Certificate (NOC)" from their employer, when called for further process if qualified in Online Test. Without 'NOC', no candidate shall be allowed to proceed further. However, before appointment in Indian Bank, a proper discharge certificate from the employer will have to be produced.
k. The Bank does not furnish the mark-sheet to candidates.
l. Canvassing in any form will be a disqualification.
m. In all matters regarding eligibility, assessment, prescribing minimum qualifying standards in test in relation to number of vacancies and communication of result, the Bank"s decision shall be final and binding on the candidates and no
correspondence shall be entertained in this regard.
n. Candidates have to make their own travel arrangement and Bank will not bear any expense.
o. Any resultant dispute arising out of this advertisement/ recruitment shall be subject to the sole jurisdiction of the Courts situated at Chennai only.