TN 12th supplementary result 2022
TN 12th supplementary result 2022: Government of Tamil Nadu, HSE (+2) General Supplementary Examination Results in 2022 will be released soon by the Directorate of State Examinations. Students should check the Plus Two result from the official website dge.tn.gov.in or www.tnresults.nic.in. To verify the result, candidates must enter their registration number and date of birth. Following its announcement, we will provide you with a direct link to the conclusion below. TN 12th supplementary result 2022 and related information can be found here.
இணையுங்கள் எங்களின் கல்வி மற்றும் வேலைவாய்ப்பு தகவல்கள் குழுவில்
The Directorate of Government Examinations, Tamil Nadu is all set to declare the TN plus two result 2022 on 22.08.2022 on its official website. Students must note that the TN HSC result or Tamil Nadu 12th result will be available at 2:00 pm on the official website of the board. The result for class 12th will be declared in online mode only. All the students are advised to keep their roll numbers handy in order to check their class 10th results.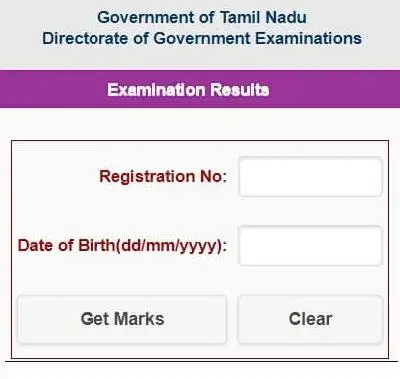 Once declared, students can also check their Tamil Nadu class 12th result 2022 through SMS service. They can only check their TN SSLC Result 2022 with the mobile phone numbers which they have submitted in their schools.
All candidates who have registered for the Tamil Nadu Plus 2 Supplementary  Examination should pay attention. The end for Plus 2Certificate District-wise details will be issued along with the scorecard and performance grade sheet. Candidates waiting to see the result of the 10th General Examination can get their name wise, DOB, registration details. The TN Board Authority is to publish the result according to their new standardization system on their official webpage. Furthermore, TN Board 10th results 2022 can also be received via SMS.
பிளஸ்-2 துணை தேர்வு எழுதியவர்கள் தங்களது தேர்வு முடிவை, மதிப்பெண் பட்டியலாக www.dge.tn.gov.in எனும் இணையதளத்தில் இருந்து இன்று பிற்பகல் 2 மணி முதல் டவுன்லோடு செய்து கொள்ளலாம்.
பிளஸ்-2 துணை தேர்வுக்கான விடைத்தாள் நகல் மற்றும் மறுகூட்டலுக்கு விண்ணப்பிக்க விரும்பும் தேர்வர்கள் சம்பந்தப்பட்ட மாவட்ட அரசுத் தேர்வுகள் உதவி இயக்குனர் அலுவலகத்துக்கு வருகிற 24, 25-ந்தேதிகளில் காலை 10 மணி முதல் மாலை 5 மணி வரை நேரில் சென்று உரிய கட்டணம் செலுத்தி பதிவு செய்து கொள்ள வேண்டும். விடைத்தாள் நகல் பெறுவதற்கான கட்டணம் (ஒவ்வொரு பாடத்துக்கும்) ரூ.275 ஆகும். மறுகூட்டல் பொறுத்தவரையில் உயிரியல் பாடத்துக்கு ரூ.305 எனவும், இதர பாடங்களுக்கு (ஒவ்வொன்றுக்கும்) ரூ.205 எனவும் நிர்ணயிக்கப்பட்டுள்ளது.
TN 12th supplementary result 2022 Highlights
| | |
| --- | --- |
| Board Name | Directorate of Government Examinations, Tamilnadu |
| Exam Category | Higher Secondary Exams (HSC) Supplementary Exam |
| Exam Session | March 2022 |
| Class | 12th |
| Exam Date | July 2022 |
| Result Date | June 20,2022 @ 12.00 pm |
| Result Status | Published |
| Official Website | www.tnresults.nic.in |
How to TN 12th supplementary result 2022 tamil nadu?
Visit the official website at www.tnresults.nic.in.
Click HSC Suplementary Result 2022
Then, click the button and just wait
Enter your Reg. Number and Date of Birth.
Click the Get marks button to see your result
Finally, Print your result in PDF format.
POST OFFICE JOBS IN TAMILNADU .. NOTIFCATION RELEASED .. CHECK NOW
Plus Two supplementary result 2022 tamil nadu Links
TN 12th supplementary result 2022 Link 1
Click here —> http://www.tnresults.nic.in/
TN Results nic in 12th Result 2022 Link 2
Click here —> https://www.dge1.tn.nic.in/
TN Results nic in 12th Result 2022 Link 3
Click here —> https://www.dge2.tn.nic.in/
Result Link 4 —- > Click here
Latest Updates – Tamilnadu SSLC Result
இணையுங்கள் எங்களின் கல்வி மற்றும் வேலைவாய்ப்பு தகவல்கள் குழுவில்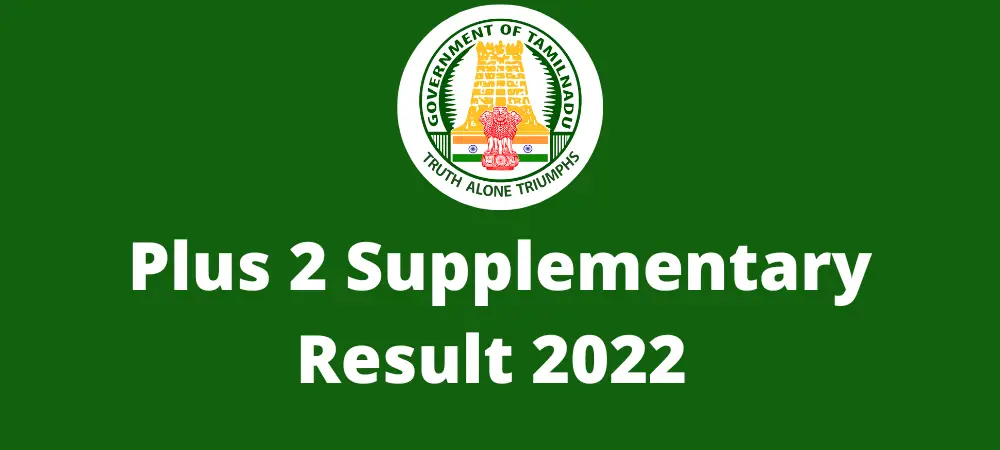 TN 12th supplementary result 2022 Link
TN 12th supplementary result 2022 Date
TN 12th supplementary result 2022 Date is declared on 22.08.2022