TRB NEW ANNUAL PLANNER 2023 – Click here
TRB annual planner 2023
TRB annual planner 2023 : TRB Annual Planner Revised Planner 2022-23 has planned to conduct various exams in various services to fill up around 10,371 vacancies in Tamilnadu state government. Now, Tamilnadu Teacher Recruitment Board had published the official Tentative Annual Planner of Upcoming TRB vacancies & exam details for the year 2022-2023 @ http://trb.tn.nic.in/. The mentioned schedule is a tentative. This is only for information to the candidates who are interested for Teaching Jobs to get prepared for the upcoming examination. This post will gives the details like, how many Vacancies in TRB, Tentative date of Notification & Tentative date of Examination of Teacher Recruitment Board for the year 2022-23
இணையுங்கள் எங்களின் கல்வி மற்றும் வேலைவாய்ப்பு தகவல்கள் குழுவில்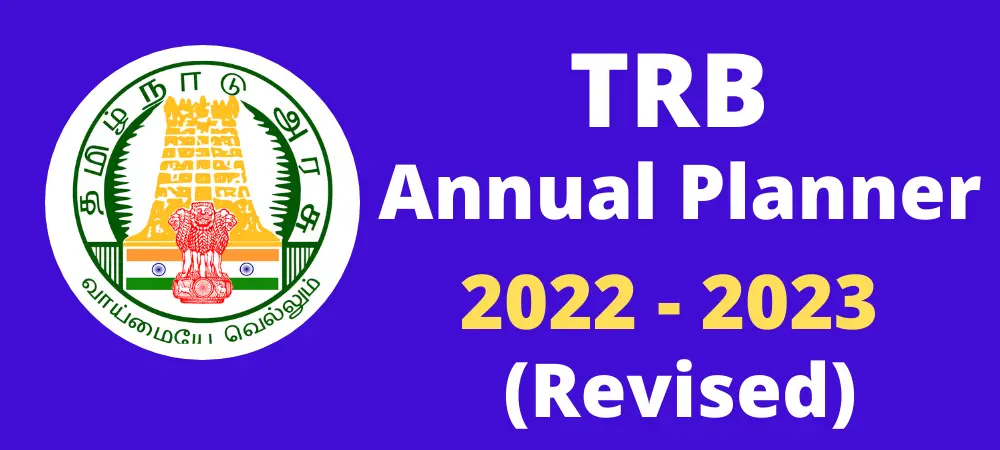 TRB annual planner 2023 : Candidates who are looking for TRB Annual Planner PDF, those candidates kindly get the Tamilnadu TRB Tentative Annual Planner details below in this post. In this page, We have shared the following details like tentative time line announcement of the upcoming TRB notification regarding the following post/recruitment such as TRB PG Assistant which is already released in November 2021,  Teacher Eligibility Test (TET)  Exam, Secondary Grade Teachers and Graduate teacher notification, SCERT Lecturers, Assistant Professors in government colleges of arts & sciences as well as engineering colleges post/recruitment date of notification, number of vacancies, period for submission of online application, last date for submission of online application, date of examination, tentative month of publication of written result, month of Oral Test /Counselling.
TRB NEW ANNUAL PLANNER 2023 – Click here
Get TRB Annual Planner Revised Planner 2022-23 2022 PDF
Go to official website of TRB i.e. trb.tn.nic.in.
Find the link "Tentative Annual Planner of Teachers Recruitment Board for the year 2022"
Click on the link TN TRB Annual Planner Pdf will be opened.
You may download it for your reference.
TRB Annual planner 2023 download link
இணையுங்கள் எங்களின் கல்வி மற்றும் வேலைவாய்ப்பு தகவல்கள் குழுவில்
About Us
Tn Study Corner is exclusively made for Educational Information, Govt Job Updates and Govt Schemes You can visit our Website regularly to get Updates of Central Govt Jobs, State Govt Jobs, Degree Jobs, Diploma Jobs, +2 Jobs, 10th jobs. Additionally We Provide Study materials for TNPSC and Diploma Students. Don't forgot to join our Telegram and WhatsApp Group. We are delighted to welcoming you. We hope our web portal helpful to you. All the best for your Exam Results and Get a Government Jobs. Thanks for Contacting us